History
Sometimes even such an intricate access rights system does not do the trick. That is why Simitless has integrated a "history" system.
Whenever a piece of data is edited, Simitless keeps track, not only of its past values, ​​but of the users who edited the data in the last 3 months. With this extra layer of security you gain an a posteriori control over the value changes in your application.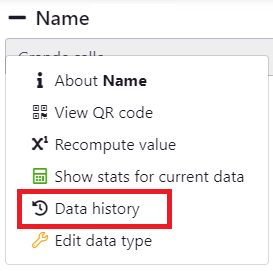 Data history
The most important part of the history is the data history itself. Whoever has edition rights on the data can view the history and eventually restore a value to it.
In the type settings Data Quality section you can also find an option to deactivate history if this is not useful for your use. This will lighten up the load on your application when editing data and participate to making it run a little bit faster, in case you have a large application.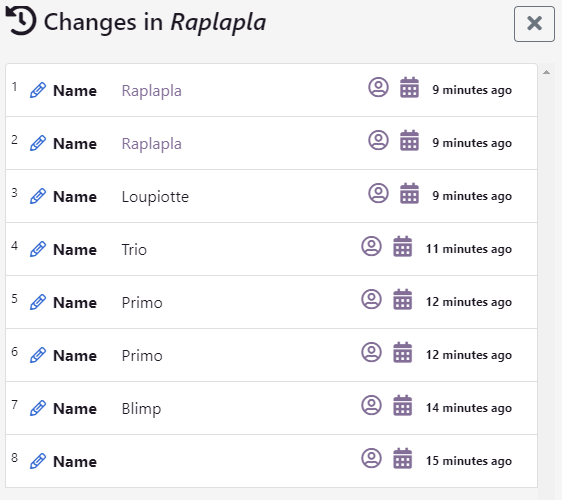 To restore a value, hover over the item with the correct value (or tap if you are on a mobile device). A Restore Value button will appear. Simply click it to reset the value of the field to this historical value. When hovering over the icon, you will be shown the name of the user that edited the information out. The icon will show you the exact date and time. The text after those icons tells you the relative elapsed time since the change.
Settings history

Types and application settings also have their history system. Look for the history icon next to any field that support this feature. Keep in mind that in some cases, the history is more informative than useful and even with history it may be difficult to go back, especially with settings. For example, changing the field type may trigger a data migration of the data content. In this case, and depending on the types of data and the content of the values, some data meaning may be lost and changing the field type back would not revert the initial change. You would probably have to go through each value to restore history. There is no "restore all" option at this time. For application snapshot and backups, you may want to look at Importing and exporting.