User
User accounts on Simitless are personal. There is no point in sharing them, they are free.
Having individual user accounts is better for security. Both your apps security and the platform's security as a whole. Sharing accounts does not let you access more features or content anyways. Quotas on the platform are based on the number of simultaneous accesses (seats), not accounts. Sharing accounts and passwords only compromises the security and reduces the control you have over your apps access.
Profile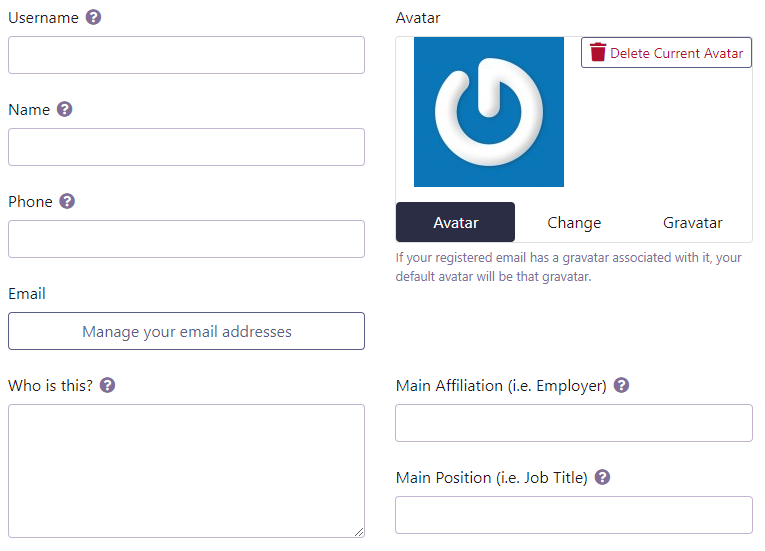 Each user on the platform has a user profile that contains the following information:
Generated username (from email address): This is displayed to other users that are member of the same application. This username can be modified by the user itself.
Name (Full Name): This is shown to other users. Typically, the bubble satellite robot will ask you for your name upon signing up for the platform. You can change it at any time.
Phone number (optional): This is so that other users can reach out to you if you wish so. This is completely optional and will not be used otherwise.
Email address: This information is mandatory as we use it to contact you about contractual information. This will also be displayed to other users that are member of the same applications as you, when necessary.
"Who are you?": this is a little bio field letting other know who you are. This is displayed to other users that are member of the same applications as you.
Affiliation, employer: This is just some information for other users, again.
Position, job title: Same old information for other users to know who you are when collaborating
Avatar, Local avatar or Gravatar: To hold a nice photo of you. We found it helps people collaborate better to see who they are working with. If your registered email has a gravatar associated with it, your default avatar will be that gravatar.
Preferences

The platform currently lets you set a few preferences:
Preferred language: This is selected when signing up. It controls what default language the platform interface is displayed with. When you access an app with a different language, if your preferred language is also available, it will suggest the switch. This is also the default language of the workspaces and apps you'll create.
Email Preferences: This is to let us know how much we can reach out to you.

Information & Tutorials: We'll send periodical information on how to use the platform better, how the platform is growing, new features.
Help & application improvement suggestions: We'll send suggestions on how your applications can be improved specifically. This is for a planned feature that would analyze and suggest improvement to apps automatically.
Notifications: Whenever you receive an in-platform notification, we'll forward that notification to your email.
As long as you have an account on Simitless, you will receive periodically emails on some of the important notifications such as if your workspace is over quota, if a payment dispute arises, if terms and condition change, etc. To delete your account, go to the Security tab, but we'll be sad to see you go! Email is the legal way we are supposed to reach out to you so we have no choice in emailing you, when absolutely required. You must maintain a valid email with your Simitless account to comply with the Terms and Conditions of use of the platform.
Security

The security page regroups the most sensitive actions and the most important information for your user account:
Manage your email addresses: lets you add email addresses, trigger the sending of a new validation message but also remove outdated email addresses from your account.
Change your password: lets you update your password. This also require inputting your old password to avoid account hijacking. The new password must have at least 1 digit, 1 lowercase and 1 uppercase letters. It should be at least 6 characters long in total, but we advise 12 if possible.
Password forgotten: in case you have forgotten your password, this option lets you get a secure reset link through your email address if it was validated. If you don't have access to this email address anymore or if it is not validated, please reach out so we can verify your identity manually, somehow.
Delete your account: this section lets your delete everything about your account on Simitless. For security, we require that you delete or transfer your workspaces before you can delete your account. This normally takes just a few seconds from the main platform screen and it makes sure that you don't delete your content by mistake.
Where am I connected from?: shows your a list of IP addresses where you are connected from. This is mostly useful to check on the security of your account. For each IP address, we provide a link to an independent website letting you check on the approximate geolocation information for this IP address.
Account deletion
Note: Account deletion is a permanent action. No data can be recovered after it has been deleted.
If are responsible for some workspaces and applications on the Simitless platform, before you can delete your account, you need to transfer any responsibility you have to another user or you need to manually delete any workspace and application that you may be responsible for. This is for security, to ensure applications are not deleted by mistake, or vandalized. This will also require you to unsubscribe any potential user or subscriber that you may have. You may have a contractual obligation with paying users to provide the service they paid you for until the completion of the contract. In that case, you should start by cancelling any eventual service renewal.
The recovery of your data is only possible before the deletion of the account, the data being deleted beforehand, by the user, during the procedure of deleting the account. The platform terms and conditions of use are setting the procedure for deleting an account.
To recover any data, you must download an export of each type of object in a standard format (CSV format) or an export of the entire content of the application (available to application administrator only, in the JSON format). The information exported from the platform is meant to be readable by most software and computer systems. However, the exploitation of such information may require advance technical knowledge.
Billing
The billing page shows the workspaces and products you have subscribed to, both free and paying ones.
Workspaces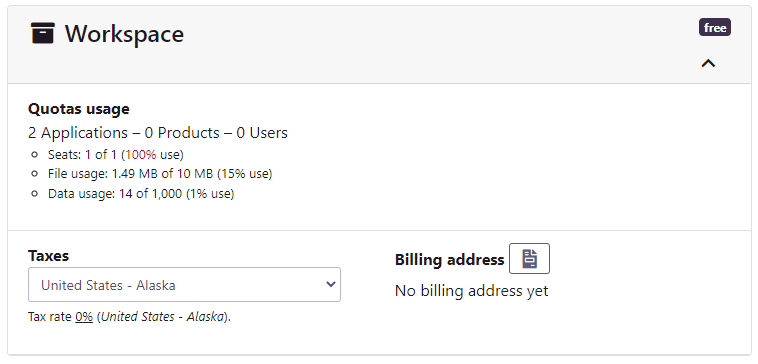 In the first part, the billing page shows you a list of the workspaces for which you are responsible for the settlement of any fees, quotas and plans. For each workspace, this page shows you a summary of:
quotas used,
current plan,
tax number information and jurisdiction,
billing address,
payment method,
overall billing and tax for the workspace,
list of links towards hosted invoices.

If your workspace has any need for it, a button asking you to set payment details will be displayed, as well as a button to apply a voucher to your account. If you were given a code for a discount or for a special credit line (pre-paid, refund, etc.), this is the place to input the code.

Below this information, you will be shown a box containing the "Change of Plan" request if any change of plan has been proposed on your account, by you or another user with the rights to edit the billing details of the workspace. On this page, they are here for you to validate. If you want to change the plan details, you can go back to the workspace plan management page. A link towards the workspace management page is available when clicking on the Workspace title of this billing page.
Data products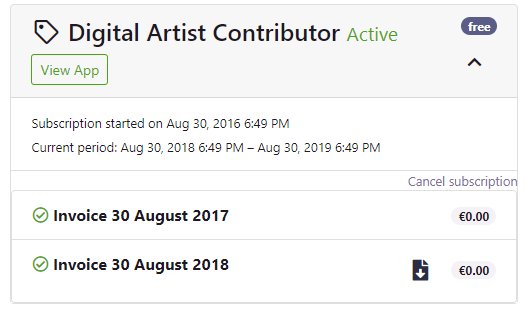 Below the list of workspaces you eventually manage, we are listing the data products you are subscribing to on Simitless.
The information shown here include:
the current subscription period,
the time since when the first subscription was started
the price,
the list of invoices, as well as a link towards the invoice document.
On this section, you will also find the link to cancel the subscription you have running. Typically, you will still have access to the data product until the end of your current billing period. Your subscription will simply not renew after that.
Activity
The activity tab of your account management section lets you see some of the information about your account activity:
When it was created,
The date of the last modification done on your account's information
Last login time
Last activity
and last IP address logged in.
Notifications
On the top right hand side, in the main menu , you can find the link towards the Notifications page. This page shows you the notifications from actions on the platform or from other users.
Some example of notifications include:
accepted invitation
removal of access rights to application
acceptation of request to join an application

Depending on your settings, notifications are also sent to your email address. In any case, they are usually shown as a little "toast" popup on your screen, if you are connected at that moment, or as a notification count on the menu button. You can clear the notification count by marking all the notification as read in the notification page, using the button. If applicable, the lets you reply to the notification by sending a message through the notification system.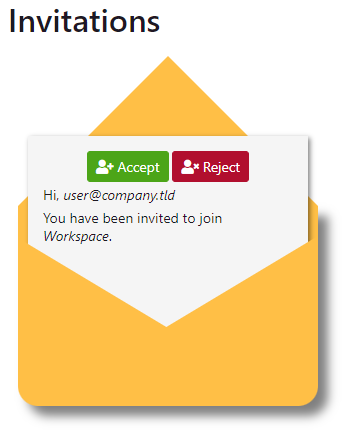 Invitations
To collaborate on applications, users need to be able to joint application securely. For that, an app administrator can send you an invite to join an application. You will receive a code in the email of the invitation.
If the email address the invitation was sent to is validated on Simitless, the invitation also appears in the account (similar to a notification, but different).
By using the code and the original email address the invitation was sent to, you can reclaim the invitation even if your registered email address is different. For this, you should never forward invitation emails you receive before you reclaim it. An invitation is valid only once.

If you receive an email with an invitation code, it will also contain the link to the invitation page. On this page you will see an invitation code field if the direct link is not able to recognize your account (different email address, not validated address, etc.).
The administrator of the app can remove access rights or revoke the invitation at any time.